Why choose Weller Designs?
We are respected members of the golf course design community and our expertise comes from over 30 years' experience in the industry. Bruce Weller has been a senior member of the European Institute of Golf Course Architects (EIGCA) since 2000 and has previously served as an Executive Director.
Our team prides itself on the attention to detail shown to whatever scale of project you are considering – whether it is a bunker renovation project or a brand new 18 hole facility. We have the expertise to take your project from its inception through all the necessary stages of development, including planning submission and onto a successful conclusion.
We offer the complete range of services from feasibility studies, detailed design, planning applications, contract administration and overseeing construction. We have considerable experience in the use of recycled soils as a means of constructing golf facilities and consider ourselves the UK's leading company with regard to advising on this approach to a new development.
Bruce Weller (LD HNDip) – Bruce has over 30 years' experience in the golf course design industry, working with Golf Landscapes, Bernhard Langer's design partnership, IMG and PACC Golf Design, before establishing Weller Designs Ltd with his brother. Bruce is a Senior Member and former Executive Director of the European Institute of Golf Course Architects (EIGCA).
David Weller (BSc Hons) – David has worked in the golf course design industry for over 25 years and was previously Senior Designer at PACC Golf Design. David is a graduate of geography and plant biology, as well as a talented artist and graphic designer. His key responsibilities at Weller Designs are as senior designer and planning consultant; he is skilled in the use of the latest computer-aided design software (AutoCAD) and Trimble surveying equipment.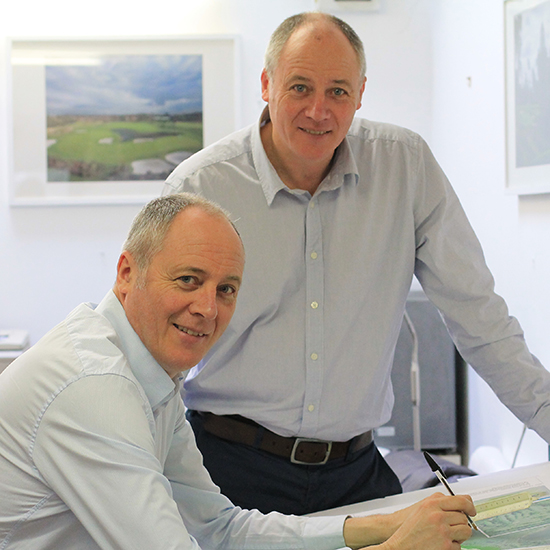 Having established our reputation working with both private member and proprietary owned golf clubs, we have expanded our business to include successful relationships with an increasingly broad range of clients. These include:
Golf Clubs
Local authorities
Schools
Sports Clubs
Leisure Companies
Hoteliers
Property Developers
Landowners
Professional Golfers
We have used Weller Designs as our retained architects over many years for both golf course design work and as planning consultants. Their experience in putting together exciting, practical designs, whilst also managing the full array of skills and services required to get planning permission, has proved invaluable.

Faybrook

We have used Weller Designs as our retained architects over many years for both golf course design work and as planning consultants. Their experience in putting together exciting, practical designs, whilst also managing the full array of skills and services required to get planning permission, has proved invaluable.

Burnham Beeches Golf Club

The Berkshire Golf Club would thoroughly recommend Weller Designs for any design services you may require.

Secretary, The Berkshire Golf Club

Weller Designs assisted us with the development of Golf Kingdom. Weller Designs provided all design, planning and monitoring services and were thoroughly professional throughout.

Director, Golf Kingdom

Weller Designs have been involved with The Drift Golf Club and have dealt with all matters around the planning application details (also acting as  Planning Consultant, Agent and Lead Designer) I have found them to be professional and diligent and were instrumental in the water harvesting scheme that has been created on the reshaped driving range outfield. I would thoroughly recommend their services.

Director, The Drift Golf Club

Weller Designs have assisted us throughout the whole process of developing Golfplex, from the original planning application to monitoring the construction works. I can fully recommend their services.

Director, Golfplex